Today's workforce is spread across branch offices and remote work sites in the United States and throughout the world. That means it is more important than ever for IT leaders to explore Software Defined-Wide Area Network (SD-WAN) solutions that can improve enterprise WAN performance.
Employees expect effortless collaboration, regardless of location. They want instant access, on any device, to cloud applications and rich-media files that consume an ever-increasing amount of your bandwidth. And they look to employers to provide it.
CBTS SD-WAN provides unlimited, optimized access across the entire enterprise organization for cloud applications and services while simplifying implementation and allowing for central management of all network activity.
Join CBTS September 26 at the CIO SD-WAN Summit in NYC
Join CBTS on September 26 at the CIO SD-WAN Summit at Morton's The Steakhouse–Midtown Manhattan in New York City for an executive-level dialogue that will address the future of enterprise networking. Our panel of experts will discuss strategies that combine and integrate SD-WAN, NaaS, and UCaaS to support the constantly evolving requirements of today's business enterprise.
We will explore the strategic, operational, financial, and technological imperatives that must be addressed to ensure that all critical enterprise networking requirements are met in a flexible, future-proof, and cost-effective manner.
Our panel of experts will discuss the new opportunities created by the integration of emerging technologies into business operations and the networking environment, and how they can be leveraged to accelerate the achievement of critical business objectives.
Attendees will have the opportunity to network with other CIOs and vice presidents in the New York City metropolitan area.
CIO SD-WAN Summit features CBTS expertise
Panel members include:
Joe Putnick
Vice President and Principal Communications Practice
CBTS
Joe specializes in leading high-performance teams that consult, design, and deliver data networking and communications solutions to customers across all industries. Joe has held leadership positions in operations, sales, product development, and management during his tenure with CBTS and has more than 24 years of experience in the networking-telecommunications industry. He is a veteran of the United States Marine Corps.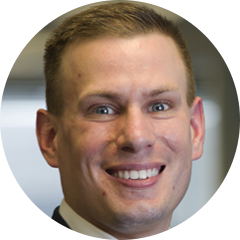 Jon Lloyd
Director of Cloud Networking, SD-WAN, and NaaS Solutions
CBTS
Jon has over 12 years of experience designing, developing, and implementing voice communications, connectivity, cloud, and networking strategies for businesses nationwide. He is recognized for his expertise and knowledge and is widely regarded as a thought leader in the SD-WAN marketplace.
Charles Pelton
Contributing Editor
CIO.com
Charles is the former Editor-in-Chief of InformationWeek Magazine. He has run dozens of business and IT roundtables, moderated IT and other business focused panels, and hosted executive conferences for CIO, Computerworld, and other groups. He co-founded Modern Media Partners which focuses, in part, on producing live events and conferences. A business journalist for more than 25 years, Charles has worked as a reporter for Time and USA Today and on events for The Economist and The Wall Street Journal.
CIO SD-WAN Summit to focus on key topics
Our experts will discuss the evolution of the enterprise network in the context of decisions by a growing number of organizations to pursue major digital transformation initiatives and the move away from siloed networks to an integrated SD-WAN, NaaS, and UCaaS strategy.
Our panelists will cover the impact of the rise in SD-WAN on the way enterprise technologists design, develop, and deploy network infrastructures to meet current and emerging business requirements, and the implications of these decisions from the perspectives of leadership, management, and talent requirements.
Finally, they will address the impact of emerging technologies on enterprise network design and how an integrated approach to SD-WAN, NaaS, and UCaaS can lead to real business outcomes; how actionable analytics and real-time visibility can enhance strategic business decisions; and how an integrated SD-WAN, NaaS, and UCaaS solution can enhance capabilities and streamline management through support by a single provider.
Register for the CIO SD-WAN Summit and get the SD-WAN CIO Toolkit.